TwinXs 2C
Spectra's TwinXs 2C is a highly accurate two-door access control panel suitable for every business vertical. Its super-powerful design and simple mechanism makes it a favourite control panel among clients. It is easy to install, use, and maintain. TwinXs 2C is justifiably the best 2-door access control panel that has the ability to simultaneously control and monitor two doors, and allows it to be a cost-efficient alternative for our customers.
This 2 door/ 4 reader door control panel has a large storage capacity to store 30,000 employee database and about 55,000 transactions. It even supports multiple proximity, keypad, biometric, smart card, and RS485/Weigand reader. TwinXs 2C is a must-have for areas such as server rooms and research labs, to name just a few. Its secure, user-friendly and easy to embed network interface makes it a highly desirable solution in Door Access Control technology.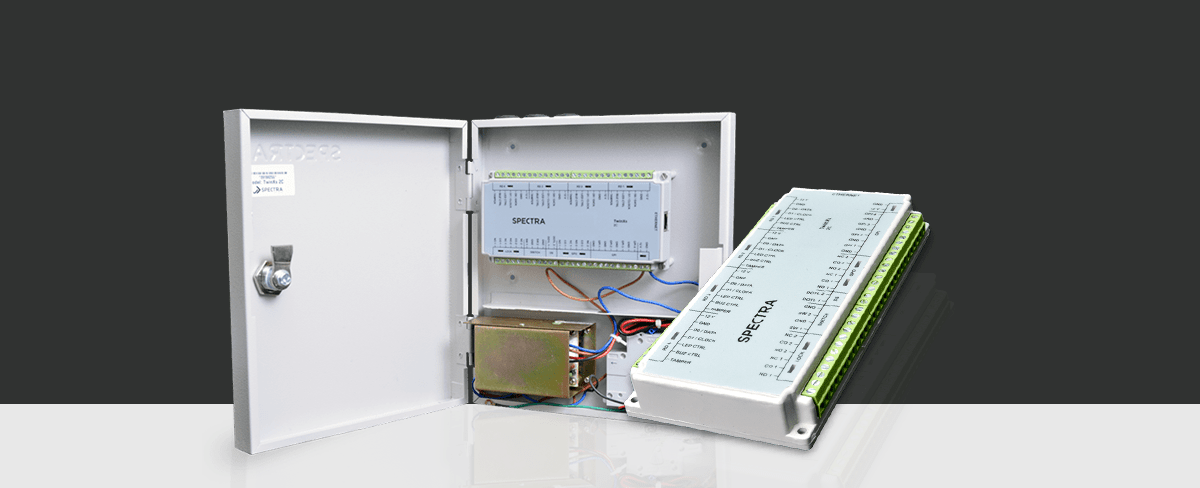 Features
2 Door / 4 Reader IP Controller

Supports access control of up to 2 doors in all respects including 2 entry readers, 2 exit readers, 2 locks, 2 exit switches, etc.

Protected Enclosure for Controller

Both the controller & power supply unit in this door control panel are protected with suitable housing so that the electronic circuit boards are not exposed to cause any accidental damage.

Door Interlocking Feature With Anti-Pass Back

The 2-door access control panel offers door interlocking by allowing access to a door within the group only when all the other doors are closed. It also supports door-wise anti-pass back where entry to a particular door is allowed only when the employee has exited through the same door.
Specifications
Operating Temp.

-10 to 50°C

Humidity

RH 5-95% non-condensing

Weight

2.65 Kg.

Dimensions (mm)

H 230 x W 262 x D 57

Supply

13.8V DC / 2.5 Amp with battery charger, provision to connect 12V/7.2 AH battery

Power

2.5 Watts( excluding lock and readers)

Input

180V AC ~ 230V AC/50 Hz

RTC

Non volatile real time clock calendar

Display

LED indication for reader and lock activity status

CPU

8 bit microcontroller running at 42 MHz

Program Memory

128 Kbytes

Data Memory

2 MB flash

Watchdog

Inbuilt watchdog supervisor

Protection

Miniature circuit breaker (MCB) for over current protection

Database

30,000 card holders

Transactions

55,000 time stamped events storage capacity

Controller

2 Doors/4 Readers

Reader Control

LED Control, buzzer control & reader tamper switch input

Communication

10 Base-T RJ45 ethernet interface (TCP/IP) with status LED indications

Reader Interface

Weigand configurable from 26 bits to 40 bits/clock data four reader ports

Lock Interface

2 Potential free changeover relays, contact rating 3A/30V DC, support both fail safe& fail secure type of lock assemblies

Digital Inputs

Optically isolated inputs for 2 door sensor, 2 exit switch & 2 general purpose digital input

Time Zone

30 user defined time zones

Access Groups

90 access groups

Day Access

Day of the week access

Week off Groups

30 week off groups

Holiday Groups

10 holiday groups, 30 holiday per group

Anti pass-back

Door wise anti pass-back

Interlocking

Interlocking facility available

Digital Inputs

Programmable general purpose digital inputs for monitoring devices and sensors

Digital Outputs

Programmable general purpose digital output for alarms
Download Brochure