LTT 313
LTT 313 has the smallest possible frame of all models rendering it especially suitable for installation in small spaces. TANSA turnstiles accept and work with a wide variety of proximity, magnetic or biometric readers. Typical Applications Access to private offices in multi-storey officecomplexes. This makes it possible for visitors to enterthe building with a pass they receive from the securitydesk downstairs and have access only to that specificoffice. Entrance to buses and minibuses. Access to the restrooms and lockers in factories withlarge number of workers. The greatest advantage of the mechanism is itsmonoblock welded construction. In some turnstilebrands, the mechanism is attached to the turnstilebody by bolts and screws. In contrast, the head mechanism of TANSA turnstilesare manufactured as a single integrated block weldedto the body. Thanks to such robust construction, thereis no slacking or deformation in the turnstile mechanismover time. A TANSA turnstile can be used both unidirectionallyand bidirectionally thanks to its electromechanicdesign. Selection of direction can be configured easilyby the client's authorized security personnel. Accessright can be denied or granted remotely. All mechanical hardware and electromechanical controlsystems are manufactured at TANSA's own productionplants.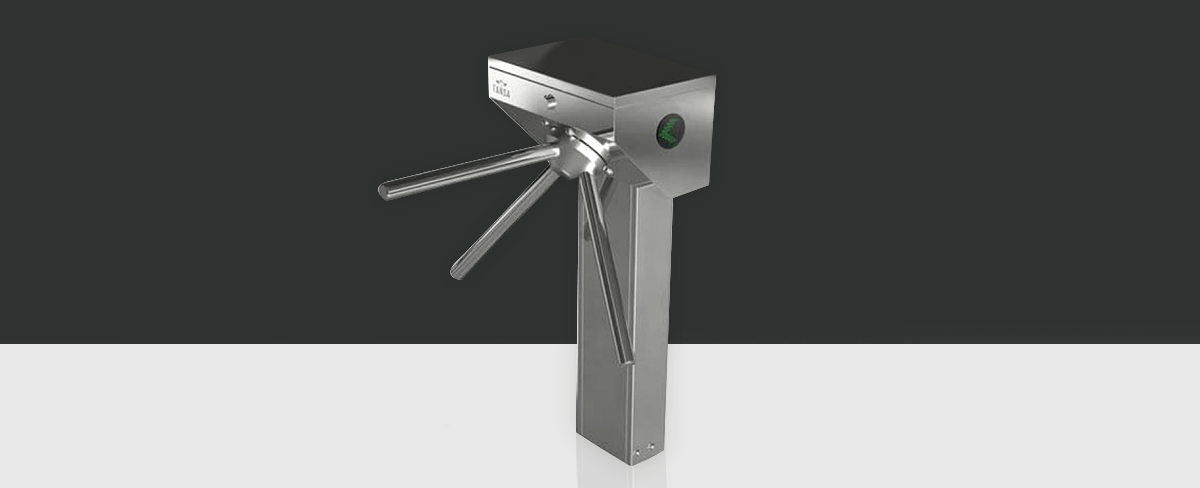 Operation: Adjustable manual passage to either direction

Frame: Single legged, flat covered, AISI 304 quality stainless steel.
Core and Arms: CNC-machined, aluminium cast core and polished. Ø40×2.5 mm aluminium arms Optional: Stainless steel arms
Functions: Passage information (NC: Normally close or NO: Normally open). Passage time. Memory mode. Audio warning. Adjustable passage direction
Mechanism: AISI 304 quality stainless steel. Fail-Safe (arms drop during power failure)
Emergency Mode: The arms fall down with the signal received from fire detection system.

Safety Level Setting: With 4 security levels that can be defined as desired by the customer, turnstile is able to detect unauthorized passes and passes in the opposite direction and emits audio or discreetly.

Indicator: Direction LEDS for both directions
Operating Voltage: 100-230 VAC. 47-60 Hz

Passage Speed: ~25 persons / minute.
Passage Width: 45-60cm
Specifications
Operating Voltage

100-230 VAC. 47-60 Hz


Power Consumption

3.8W during passage, 4.1W during standby


Operating Temperature

-10° / +70° Optional: With heater -40°


Passage Speed

~25 persons / minute.

Passage Width

45-60 cm


Weight

~22 kg


Security Level

Deterrent

Areas of Use

Suitable for indoor and outdoor use.

Accessories

Outdoor cover. Unauthorized passage notification system. Button control unit.
Remote control unit. Stainless steel bottom plate. Plexiglass reader assembly kit.
Reader assembly apparatus. Meter. RS232 communication unit.
Download Brochure