Ltop 501
Used in spaces like the banks or corporate headquarters where an esthetic excellence is a priority to impress the visitors. The architects and interior designers have many options to customize this model and create a rich and opulent look. Among the decorative materials that can be used to transform this model into a visual master piece are marble and granite as well as leather and all kinds of wood finish including wallnut, oak, andolive. Operation LTOP 501 optical turnstiles form a corridor.
In the middle of this corridor, there's a wing obstacle made up of glass or plexiglass. When the visitors have their cards read by the card reader, the wing opens. While the visitors are passing through the gate, if another person wants to take advantage of the open turnstile and tailgate behind the first visitor, the obstacle closes and blocks the passage immediately and sets off the alarm.However, if the sudden closure of the wing has the potential to harm an individual, it does not close but the alarm continues to alert the security. In contrast, LTOP 501 has the obstacle moving in and out in a straight linear fashion, thus providing a more reliable access control system.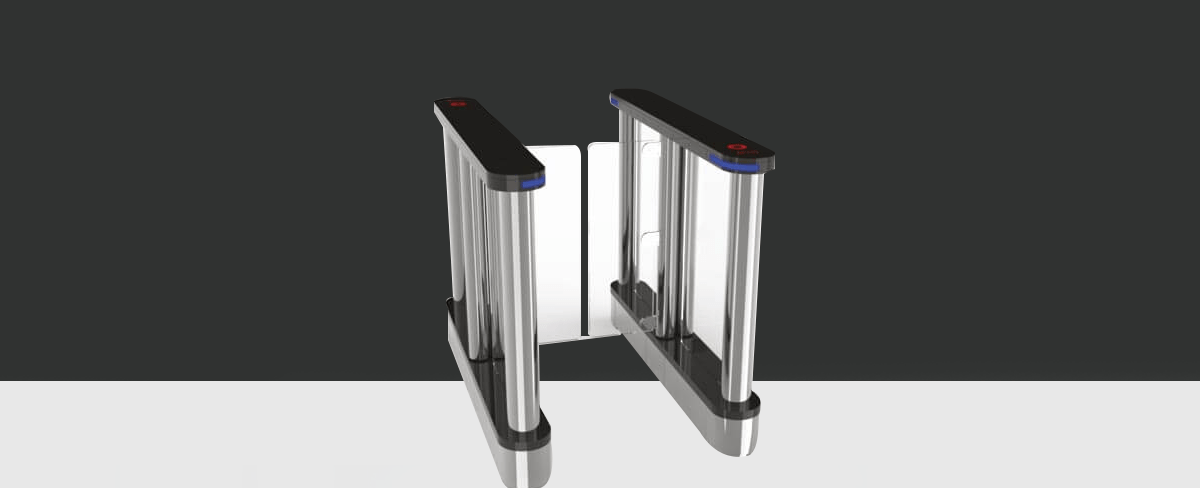 Operation: Controlled or control-free entrance/exit in both directions.
Chassis: AISI 304 quality stainless steel.
Wing: 10 mm tempered glass than can open in either direction.
Upper Table: 1O mm black tempered glass.

Mechanism: Wings are operated by means of a servomotor. Precision motor movement with 16 bit microcontroller and encoder support, and motor-locking in the event of unauthorized pass.

Sensors: 14 reciprocal sensors in every turnstile.

Emergency Mode: Turnstile switches to emergency mode upon the receipt of a signal from fire detection system and wings open in predefined direction.

Safety Level Setting: With 4 security levels that can be defined as desired by the customer, turnstile is able to detect unauthorized passes and passes in the opposite direction and emits audio or discreetly.
Indicator: Led lighting around the top plate and transition Leds.
Wing Speed: 0.6 Sec (Opening – Closing)
Passage Speed: ~60 persons / minute.
Passage Width: 55cm
Power Consumption: 20W during passage, 08W during standby (For two wings).
Specifications
Operating Voltage

100-230 VAC. 47-60 Hz


Power Consumption

20W during passage, 8W during standby (For two wings).

Operating Temperature

0° / +55°

Passage Speed

~60 persons / minute.

Wing Speed

0.6 sec (Opening - Closing).

Passage Width X Weight

55 cm x ~105 kg (Single wing)

Security Level

Deterrent

Areas of Use

Suitable for indoor use.

Accessories

Logo engraving. Sticker. Remote control unit. Stainless steel reader apparatus. Meter. Button control unit. Stainless steel reader leg. Stainless steel bottom plate.
Download Brochure