EAC
Spectra's Elevator Access Control (EAC) helps you practice better control over your facility. The software is easy to customize and it works in tandem with user-specified needs like time zone preferences. It supports the fail-safe mode, which means even during power failures, the EAC elevator car continues to work in a normal mode, allowing movement to every floor.
Spectra's lift access system beefs up your elevator security with its embedded network interface and eases connectivity. It is simple to install, configure, and operate. It eliminates the need to depend on manual guarding of your premises and in the long run reduces costs. The software creates visitor categorizations such as owners, service staff, or new visitors. It lets the users implement elevator access control policies that enable tighter security and flexibility in their facility.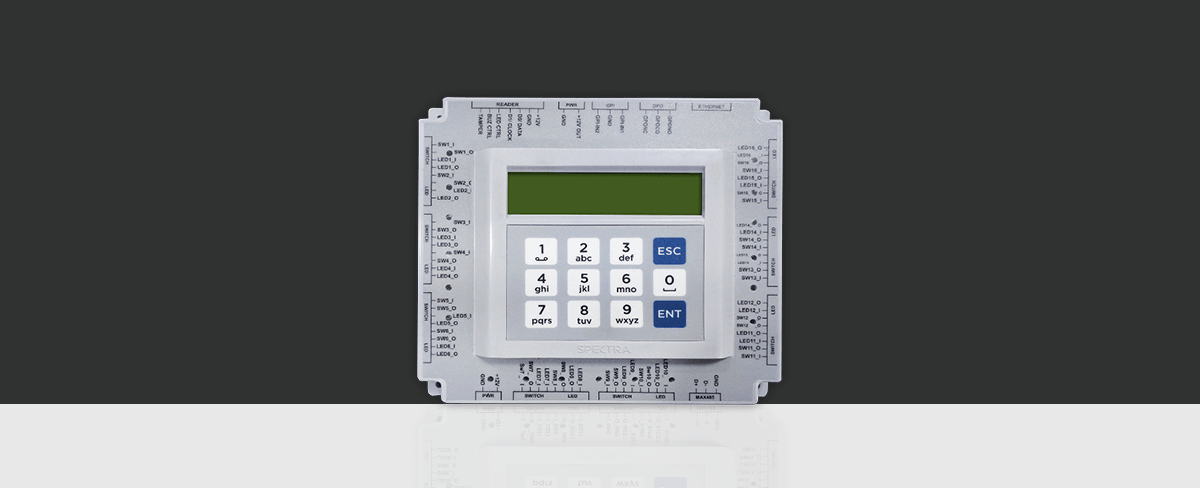 Features
Supports Group of 16 Floors

One EAC supports up to 16 floors including the ground floor and the basement. An extra EAC panel can be attached to the current one for expansion of floors via an FRC connector.

Get the Benefit of Fail-Safe Mode

It supports fail-safe mode which means even during power failure of EAC, the elevator car continues to work in normal mode, wherein, it allows movement of everyone to every floor.

Offer Limited Access to Specific Floors

Smart cards can be issued to tenants, and card readers in the elevator determine what floors people can access. Our Elevator Access Control solution can control lifts and floor access and prevent unauthorized people from entering restricted floors.
Specifications
No. of Floors

Can be expanded in multiple of 16 Floors.

No. of Floors on board

16

Operating Temp.

-10°C to 50°C (14°F to 122°F)

Dimensions (mm)

H 141 x W 154 x D 33

Supply

12V DC

Selection

3A @12V DC

RTC

Non volatile real time clock calendar, Data retention for 10 years without external power

Keypad

12 keys membrane keypad for local programming

CPU

8 bit micro controller running @42 MHz

Program Memory

128 Kbytes

Data Memory

2 MB flash

Watchdog

Inbuilt watchdog supervisor

Database

30,000 card holders

Transactions

55,000 times stamped events storage capacity

Controller

1 per elevator car

Reader Control

LED control, buzzer control and reader tamper switch input

Communication

10 Base-T RJ45 ethernet interface (TCP/IP) with status LED indications

Serial Port

RS 485

Reader Interface

Weigand configurable from 26 bits to 40 bits/clock data, 1 reader port

Relay Interface

Up to 16 relay outputs for floor

Digital Inputs

2 General purpose optically isolated digital inputs

Time Zone

No. of Floors

Access Groups

90

Day Access

Day of the week access

Week off Groups

30

Holiday groups

10 Holiday groups, 30 holidays per group
Download Brochure