TwinXs3s
TwinXs3s – Advanced two door access controller with 32Bit/200MHz processor, 250K user database, 500K Transaction, 8MB Data Flash, 16×2 LCD Display, TCP/IP, can connect to 8GPI,4GPO,2Lock,2Exit switch, 2 door Sensor, Ext reader port-4.
Spectra's TwinXs 3S is an door access controller that supports two doors and four access readers. In addition to giving support to global anti-pass back, the controller supports a number of rule-based features. This door access control panel can be easily configured either as a standalone or Master or as a Slave. Its high speed processor can facilitate decisions of access in just milliseconds.
TwinXs 3S, the best 2 door access controller has field pluggable connectors which allows it to wire and terminate with ease. It is a reliable controller which ensures unfailing power supply, as all of its reader ports are current-sufficient even during times of breakdown or malfunction. The door access controller can facilitate on field diagnostics and comes with a LCD display. Its settings helps to program the controller, without the need to attach to its host computer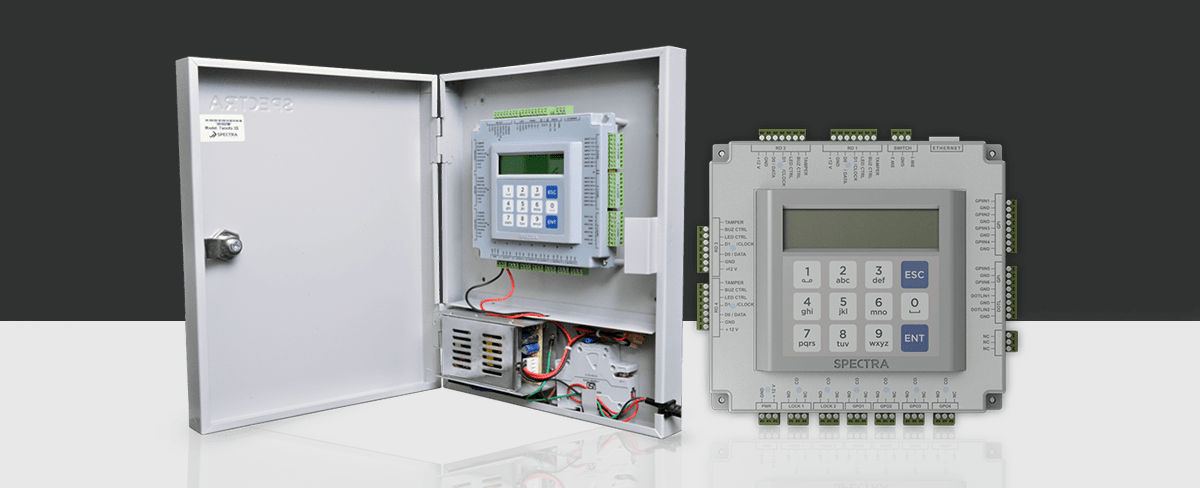 Features
Two Door / Four Reader Controller

TwinXs 3S supports 2 doors and 4 access readers where the controller can be configured as Standalone/Master or Slave. It supports host of other rule based features apart from global anti pass back.

Fully Programmable I/O's

This two door access controller has 8 optically isolated digital inputs where 4 are general purpose fully programmable, 2 dedicated for door sensor inputs, and 2 dedicated for egress switch inputs.



Compact Controller with Large Storage

Housed in powder coated MS cabinet along with rugged 5Amp power supply, TwinXs 3S is a very compact 2 door access controller with high speed 32 bit processor and a large storage of 8GB. It has a capacity to store 250,000 card holder database and last 500,000 event buffer.
Specifications
CPU

32 bit microcontroller running at 200 MHz

Memory

8GB data flash, 2MB RAM


Watchdog

Inbuilt watchdog supervisor


RTC

Non volatile real time clock calendar, data retention for 10 years without external power


Display

16 char x 2 line high contrast backlight LCD
Download Brochure