TwinXs 2s
TwinXs2s – Two door access controller with 8Bit/42MHz processor, 30K user database, 55K Transaction, 4MB Data Flash, LED Display, TCP/IP, can connect to 4GPI,2GPO,2Lock2 Exit switch2 door Sensor, Ext reader port-4.
Spectra's TwinXs 2C is a highly accurate two door control panel suitable for every business vertical. Its super powerful design and simple mechanism makes it a favorite two door control panel among clients. It is easy to install, use and maintain. TwinXs 2C, the best 2 door control panel has the ability to simultaneously control and monitor two doors, allows it to be a cost-efficient alternative for our customers.
This 2 door/ 4 reader door control panel has a large storage capacity to store 30,000 employee database and about 55,000 transactions. It even supports multiple proximity, keypad, biometric, smart card, and RS485 / Weigand reader. This door control panel is a must-have for areas such as server rooms and research labs, to name just a few and in fact it's secure, user-friendly and easy to embed network interface makes it a highly desirable solution in Door Access Control technology too.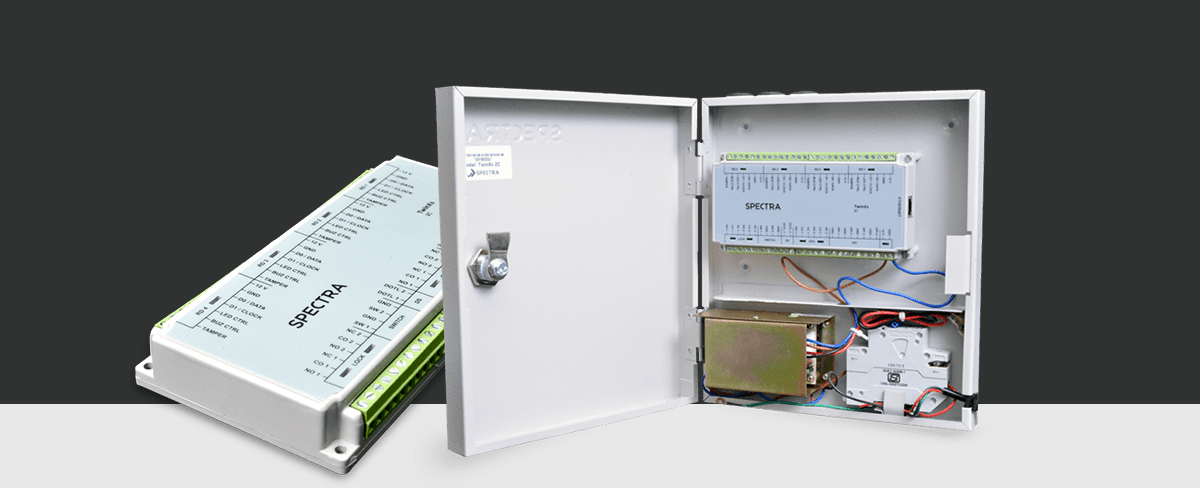 Features
2 Door / 4 Reader IP Controller

Supports access control of up to 2 doors in all respect including 2 entry readers, 2 exit readers, 2 locks, 2 exit switches etc.

Protected Enclosure for Controller

Both controller & power supply unit in this door control panel are protected with suitable housing so that electronic circuit boards are not exposed to cause any accidental damage.
Specifications
CPU

8 bit microcontroller running at 42 MHz

Program Memory

128 Kbytes

Data Memory

2 MB flash

Watchdog

Inbuilt watchdog supervisor

Protection

Miniature circuit breaker (MCB) for over current protection
Download Brochure