SG 212
SG 212 turnstiles are manufactured 100% at TANSA's own production facilities by using AISI 304 certified stainless steel. They are perfect for all internal and external applications. As an option, "STOP," "PASS" and "BLOCKED" signscan be etched onto the plexiglass or glass wings.Motorized swing gate operates with 110 Vac. Internalvoltage is 12 Vdc. To open the swing gate, it is sufficientto use any access control unit that offers a dry contactterminal. Once the control unit signals the swing gate,the motorized SG 212 opens automatically.The turnstile closes and locks after a configurableperiod of time that can be set through its internalelectronic card. If a person or an object gets caught in the way duringthe closing of the swing gate, thanks to the clutchmechanism built into its motor, the turnstile gentlypushes the obstacle forward and off the way. As an option that can be used at applications like supermarketentry points, the swing gate may swing backwardswhen a person or object gets in the way.
TANSA turnstiles are designed to excel in both internal and external environments. However, for applications in very humid or dusty settings, custom-designed turnstiles with optional features are available if the appropriate specifications are provided at the time of the order. TANSA turnstiles allow free exit out of the site or the building in case of a power failure, a feature mandated by law. If the customer wants the turnstiles remain locked during such an emergency, such functionality can be provided as an option, contingent upon the written request of the client. However, once set at the factory, the system then cannot be switched back to the emergency-exit state by the client and it remains locked during all subsequent power failures.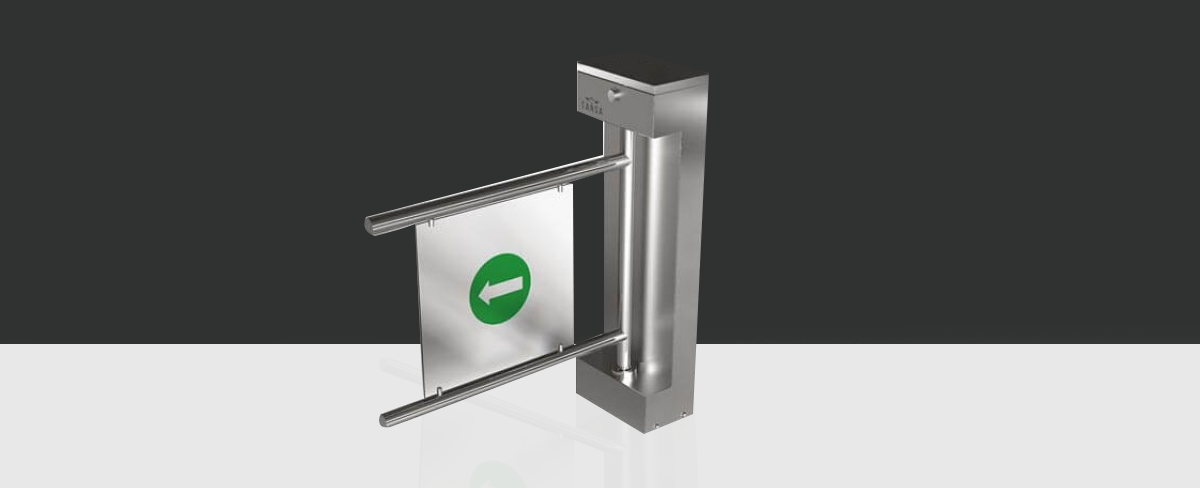 Operation: Bi-directional motor wing

Frame: AISI 304 quality stainless steel.
Wings: Polished aluminum wing with 5mm plexiglass in the middle
Functions: Automatic closing. Service mode. Soft stop capability at locking points. Audio warning.
Mechanism: Fail-Safe (Free passage during power failure)
Emergency Mode: In case of emergency, the unit switches in to "emergency mode" following the signal received from fire detection system, and the wing can be opened in either directions automatically.
Operating Voltage: 100-230 VAC. 47-60 Hz
Power Consumption: 19W during passages, 9W during standby

Opening-Closing speed: ~1.5 Sec
Passage Width: 80-100cm
Specifications
Operating Voltage

100-230 VAC, 47-60 Hz

Power Consumption

19 W during passages, 9 W during stand-by.


Operating Temperature

-10º / +70º


Opening-Closing Speed

~1.5 sec.

Passage Width

80-100 cm

Weight

~27 kg

Security Level

Deterrent

Areas of Use

Suitable for indoor and outdoor use.

Accessories

Direction leds. Remote controller unit. Button control unit. Logo engraving.
Photocell with opposite unit. Stainless steel reading bracket. Meter.
Stainless steel bottom plate.
Download Brochure