EVOLIS PRIMACY
The Primacy printer is extremely fast, powerful and efficient. Using advanced encoding technologies, this desktop printer is the best solution for issuing personalized cards, from the most simple to the most secure. Primacy is available in single and dual-sided versions and is the ideal choice for printing and encoding cards in medium and large runs.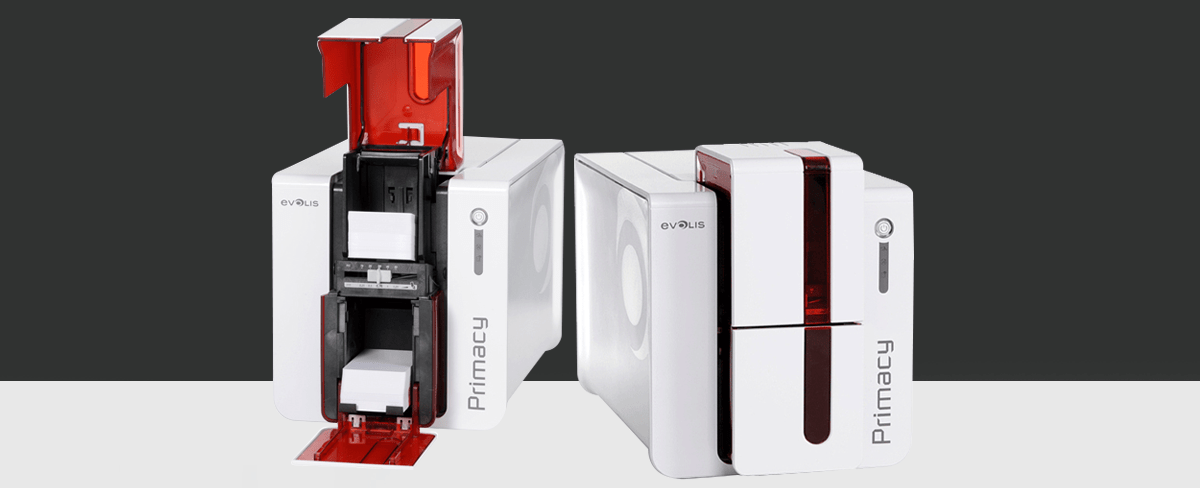 Features
Main Features

Single-sided or dual-sided printing

Edge-to-edge printing

Color dye sublimation, monochrome thermal transfer

300 dpi print head (11.8 dots/mm)

16 million colors

16 MB memory (RAM)
Specifications
Printing Performance(Single Side)

Color (YMCKO): 190 - 225 cards/hour
Monochrome: 600 - 850 cards/hour


Printing Performance(Dual Side)

Color (YMCKO-K): 140 cards/hour

Interfaces

USB (1.0, 1.1, 2.0, 3.0),
Ethernet TCP-IP 10BaseT, 100BaseT (Traffic Led),
802.11b/g wireless connection on the Wireless range

Feeder capacity

100 cards (0.76 mm – 30 mil)

Output hopper capacity

100 cards (0.76 mm – 30 mil)

Card types

PVC cards, Composite PVC cards, PET cards, ABS cards, Special varnished cards

Card format

ISO CR80 - ISO 7810 (53.98 mm x 85.60 mm)

Safety

Support for Kensington® security lock,
Data encryption for magnetic encoding

Display

Printer LEDs, Color touch screen as an option, Graphical notifications from the printer: cleaning alerts, empty/low level ribbon and card alerts, etc.
Download Brochure